Swiss Innovation: Freitag
Evonovation founder Thomas has taken a short trip to Zurich to visit the Swiss innovative messenger bag company Freitag.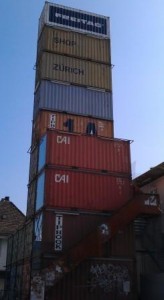 The company has their origins in an idea of the two designer brothers Markus and Daniel Freitag who were inspired in 1993 by heavy truck traffic while looking for a new bag design.
By now, their messenger bags made from truck tarpaulin, safety belt and bicycle inner tubes have become world famous and you can buy them non only in Zurich but also in New York and Paris. Within their Zurich based factory Freitag is by now manufacturing some 255.000 products per year, extending their range from simple messenger bags to a wide variety of urban fashion bags and accessories.
The case offers inspiration in terms of "beauty of imperfection" as well as sustainability –> sustainable products can be fashionable, sexy and cool!
What else can we do from our "waste", why do we even have to think in terms of waste? Nature does not know something like waste, so how come we do? Join us to think your waste management in a new way and take it as a starter for new innovation! The ideas are out there, maybe closer than you think…